Research shows that for toddlers, and preschool-aged children, the best outcomes occur when learning is embedded in play. Building Blocks Preschool curriculum is based on three research-based principles:
Children need both unstructured free play and playful learning under the gentle guidance of adults to best prepare them for entrance into kindergarten.
Academic and social development are so intertwined that the former must not trump the latter.
Learning and play are not incompatible; learning takes place best when children are engaged and enjoying themselves.
We Value
Where children are valued for their ability to do meaningful work, their wonder and curiosity, their perspectives, and their ability to play.
Where families are valued for their bonds and traditions, their ability to play, their commitment to work, home, and community, and their dreams for their children.
Where staff are valued for their vision, their delight in children, their skill, heart, and knowledge, their commitment to families, and their ability to play
We cherish what we learn from each other
We at Building Blocks, are dedicated to nurturing trusting relationships and to growing a deeply connected community that allows intellectual and emotional risk-taking. We emphasize a joyful, playful climate and a culture of intellectual inquiry and critical thinking.
Our program is anchored by commitments to:
creating environments that emphasize spaciousness and light, intriguing materials, thoughtful order and organization, and connections to the natural world
growing joyful, trusting, authentic relationships among children and adults; developing curriculum anchored in shared inquiry and in the pursuits of children, both playful and serious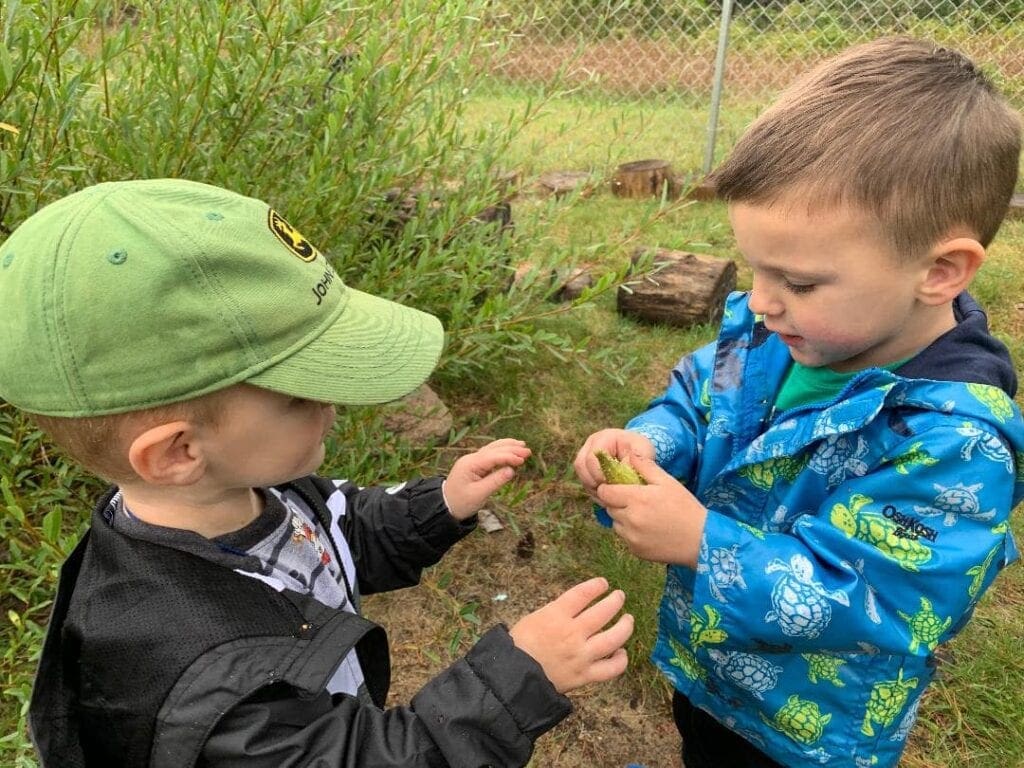 Building Blocks curriculum is based on the Reggio Emilia / Project Approach to early childhood education. Our programs are play-based because we believe children learn by doing. The curriculum is carefully designed by Building Blocks Preschool Program to provide engaging, developmentally appropriate activities that encourage children to be confident, competent learners.
Our goal, as it is for the schools of Reggio Emilia, is to create an environment for children, teachers, and parents. Our Preschool Program is staffed with multiple teachers; however, in the Reggio Emilia Approach the environment is considered the "third teacher."
The classroom provides a home-like learning environments and the outdoors extends the curriculum.  The classroom is set up to inspire, nurture and encourage discovery.  We believe children are lovers of learning and we create an environment to encourage and support this desire.  Classrooms are divided into learning centers that intrinsically foster social skills, cognitive development, and academic skills, while engaging their desire to learn, as they explore and discover together.  Learning activities, materials, and other items are introduced into the classroom environment that focuses around the interests of the children.  The daily schedule provides a structure that helps the children feel secure and competent.  We follow the best practice guidelines at NAEYC and you can read current articles here.
Favorite Quotes
The art of research already exists in the hands of children acutely sensitive to the pleasure of surprise. The wonder of learning, of knowing, of understanding is one of the first, fundamental sensations each human being expects from experiences faced alone or with others.
  ~ Loris Malaguzzi


Stand aside for a while and leave room for learning, observe carefully what children do, and then, if you have understood well, perhaps teaching will be different from before.
~ Loris Malaguzzi

The cornerstone of our experience, based on practice, theory, and research, is the image of the child as rich, strong, and powerful.  The emphasis is placed on seeing the children as unique subjects with rights rather than simply needs.  They have potential, plasticity, the desire to grow, curiosity, the ability to be amazed, and the desire to relate to other people and to communicate.
~ Carlina Rinaldi


All people – and I mean scholars, researchers and teachers, who in any place have set themselves to study children seriously – have ended up by discovering not so much about their limits and weaknesses, but rather their surprising and extraordinary strengths and capabilities linked with an exhaustible need for expression and realization.
 ~ Loris Malaguzzi